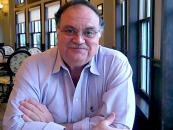 Assistant Section Manager (ASM) - Databases
Frank Aguilar N5SSH
This email address is being protected from spambots. You need JavaScript enabled to view it.

Previously served as:
Webb County Emergency Coordinator (EC)
STX District 13 District Emergency Coordinator (DEC,)
STX Section Emergency Coordinator (SEC)
Assistant Section Manager (ASM) to Lee Cooper W5LHC
Assistant Section Manager (ASM) to Paul Gilbert KE5ZW
How I serve the Amateur Radio community:
My forte is database administration. I download the FCC Amateur Radio database on a daily basis and I'm able to provide a list of current amateurs in any given area with outputs in a variety of formats.
Jamboree On The Air (JOTA) is an annual event in which I frequently teach Scouts the joys of Morse Code.
I am locally involved with the Hospital Preparedness Program (HPP) and I'm involved with the Rio Grande Valley and Corpus Christi HPP groups.
I frequently connect with the National Weather Service in Corpus Christi where I log into their Ham-Chat system every time we have bad weather in this area relaying traffic from our weather spotters in the surrounding area.
I run one of two Winlink Packet Nodes (N5SSH-10) in the Laredo area.
I am active on HF, VHF, UHF, and now DMR where I frequent the STX Talk Group.
I enjoy coaching others in the hobby and invite anyone who wishes to contact me to do so either through email or telephone.
I am extremely proficient in using today's technology giving me access remotely to other systems if need be and with video conferencing.
I currently work as an IT Director for a local investment company.

73
Frank N5SSH