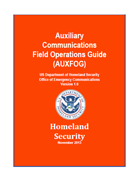 Auxiliary Communications Field Operations Guide (AUXFOG)
The Auxiliary Communications Field Operations Guide (AUXFOG) is a reference for auxiliary communicators who directly support backup emergency communications for State/local public safety entities or for an amateur radio organization supporting public safety.
This reference guide contains information about AuxComm best practices, frequently used radio frequencies, Mutual Aid channels as well as tips and suggestions about auxiliary emergency communicators integrating into a NIMS ICS environment to support communications for planned events or incidents. It can serve as a reference both for auxiliary emergency communicators and public safety communications professionals. You can download the AUXFOG by clicking on the hyperlink below and save it to your own storage device. It will only download as a PDF.
http://www.publicsafetytools.info/auxfog/start_auxfog_info.php
AUXCOM is a Communication Course developed by the Deparment of Homeland Security Office of Emergency Communications that focuses on radio communication and provides a broad knowledge of the fundamental principles of communication systems used by emergency management agencies. It aligns with both ICS and NIMS.
The course is designed to teach Volunteer Amatuer Radio Communicators a number of essential topics that will assist them in working with the Communications Leader (COM-L) and the Communication Technical Lead (COM-T) during a disaster.
It is designed to confirm knowledge of responsibilities, roles, and functions within the Communications Unit, as well as roles and function of the auxiliary emergency communicator.
The course:
Identify positions within the Communications unit
Describe responsibilities of positions within the Communications Unit, including auxiliary emergency communications volunteers
Describe the planning cycle
Identify other agencies/organizations responsible for coordination and providing assets
Describe the functions of an Emergency Operations Center (EOC)
How does this relate to ARES? Our Served Agencies want to know and understand our level of training. Having an Amateur Radio license is not enough. They want/need their volunteers to come to the table with FEMA ICS training and other courses. AUXCOMM is a path to that level of comfort that our training aligns with typical First Responder training.
AUXCOM training is typically done by DSH trained volunteers and as such there are few courses available around the country.
You can read more about this and other training by going to the Public Safety Technical Assistance Tools website at:
Thanks to our (South Texas Section Communications Manager) Lee Cooper, W5LHC, an initiative to introduce a standardized ARES training program has been accepted by the entire West Gulf Division (that's South Texas, North Texas, West Texas, and Oklahoma). Mike Urich, KA5CVH (This email address is being protected from spambots. You need JavaScript enabled to view it.) has recently (Feb 2017) assumed the role of ASEC-Training for STX.
The ARRL only requires to be an ARES member one must have an Amateur Radio License and join ARES. The ARRL also goes on to say that "Training may be required or desired to participate fully in ARES". This will largely be driven by what our served agencies may need from us. When working with our served agencies many may require absolutely nothing more than a warm body who can operate the radios and follow instructions. On the other hand, many are requiring that ARES members assigned to them "MUST" have completed FEMA IS100, IS200, IS700, and IS800 and additional site-specific training. The Standardized Training Workbook for the South Texas Section has been slightly reorganized to bring it more in line with what our served agencies generally require and to make it easier for ARES members to reach higher levels of certification. One significant addition is standards for the evaluator to follow so that the candidate knows exactly what is expected of them.
Utilization of the training plan is optional, and participation by ARES members is also optional. However, we are urging all county ARES groups to adopt the terminology and recognition by the title of their members. The South Texas ARES database will be updated to reflect these standards, record progress, and recognize those who attain various levels in the training. Our mission should include achieving the appropriate training that exceeds our customers (served agencies) expectations and perform at a high professional level.
In the immediate future expect to see links posted here to take you to training articles that can be used for weekly nets. In the meantime they can be found on the Harris County ARES web-site at http://www.harriscountyares.org/training/training.htm, Each DEC / EC / AEC may use any of these training topics as they best fit their districts/counties needs. In addition, if you have any good training topics forward them to Mike, (This email address is being protected from spambots. You need JavaScript enabled to view it.) so that they too may be added. STX already has a good reputation when it comes to training and together we can continue to excel.